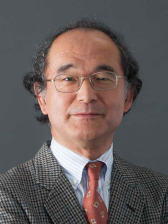 President's Message
  Being elected as the president of the 79th term of JPS, I am humbled by its heavy responsibility. Standing on the traditions established by my predecessors, I will do my best to enliven society through the cooperation of all the members.
  During FY 2022, I was involved in the management of society as vice president under former president Setsuko Tajima, and I was able to learn various things. At the same time, the challenges ahead had become clear. Major issues include a decrease in the number of members and the challenge of holding meetings twice a year. The latter is the most important project in the academic society; therefore, it is an urgent issue that should be addressed with the highest priority. President Tajima explored the possibility of large-scale universities as candidates for future venues and changed the implementation method to reduce the burden on the host school's executive committee. Therefore, it is our responsibility to conduct annual meetings. In addition, in my opinion, it is necessary to optimize the method of alternately holding online and face-to-face meetings while monitoring future trends.
  The problem of declining membership is not only directly linked to the finances of the society but also a serious concern based on the declining research capabilities in Japan as a whole. Although it is a major issue that we will not be able to solve swiftly, we need to continue our efforts in this direction. Various surveys have shown that social backgrounds beyond our control, such as the declining population of 18-year-olds and changes in industrial structure, are major factors. However, I feel there is plenty of room in society to improve this situation. I am considering two countermeasures. The first is to expand the frontiers of physics, and the second is to strengthen our approach to students, young researchers, international students, and foreign researchers.
  Data science, artificial intelligence, and quantum computing are expanding rapidly beyond the framework of conventional computational physics in various fields. I would like to firmly incorporate this movement into our society and use it as a trigger to revitalize it. If we collect topics scattered in each field and area, create horizontal connections among them, and make them visible to the industry, general public, high school students, and university students, we can demonstrate the appeal and usefulness of ever-evolving physics.
  In addition, we can appeal to a wider range of young people, such as high school and pre-university students, that we are an academic society that is open to the public. It has been a long time since the Physics Society's "Paper Collection", which I found useful as a student, was abolished. However, it is perhaps the society's responsibility to publish introductory books that are useful for newcomers to each specialized field. In addition, since there is a "friendship (Kaiyu)" system that accepts science-loving general citizens and high school students, we will try to increase the number of Kaiyu members through attractive content for them, hoping to attract young people who will become JPS members in the future and the sympathizers of physics. Online lectures on physics, which began in the wake of the COVID-19 pandemic, were well-received by Kaiyu and JPS members. In addition, last year, we set up a new website that summarizes the press releases made by our members and decided to distribute them in our members' e-mail magazine. Furthermore, it will be possible to cooperate with outreach activities conducted by JPS members on YouTube. I would appreciate it if I could borrow the wisdom of all the members.
  Furthermore, it is important to create opportunities for student members and young researchers not only to exchange research ideas/results but also to exchange information about job hunting and career paths. Interaction at meetings held twice a year is a valuable opportunity for young people. However, with the increase in online meetings, I often hear that young people need different forms and opportunities for interaction; the young and student members seem to be more seriously affected by the corona crisis than senior members, and the tendency for young people to isolate themselves is increasing. We would like to consider a system wherein the society can help create a platform for mutual exchange between young and student members.
  Considering recent trends in university entrance exams, it is encouraging to see an increasing number of high school students, especially female students, wishing to pursue science or engineering. Moreover, the Gender Equality Promotion Committee of the Society, which has been active for a long time, was renamed the Diversity Promotion Committee in 2022 for more intensive attention, not only to the gender gap problem but also to international students and foreign researchers. What should we do to improve our society and satisfy members who cannot speak Japanese, so as to retain them as members of our society even after returning to their home countries. I would like to ask for the understanding and cooperation of all members, as well as their suggestions.
Professor S. Hasegawa's career is as follows:
| | |
| --- | --- |
| 1983 | Bachelor of Physics, Department of Physics, School of Science, University of Tokyo |
| 1985 | Master of Physics, Department of Physics, School of Science, University of Tokyo |
| 1991 | Doctor of Science (by dissertation, University of Tokyo) |
| 1985 | Researcher, Advanced Research Laboratories, Hitachi, Ltd. |
| 1990 | Assistant Professor, Department of Physics, School of Science, University of Tokyo |
| 1991-1994 | Concurrently, Researcher, PRESTO Project, Japan Science and Technology Agency |
| 1994 | Associate Professor, Department of Physics, School of Science, University of Tokyo |
| 2010 | Professor, Department of Physics, School of Science, University of Tokyo |
For JPS, he served as Director from March 2017 to March 2019, Vice President/President Elect from April 2022 to March 2023.
Professor Hasegawa's major research fields are Condensed matter physics experiments, especially surface physics.